무수한 잠재력을 가진 균류의 복잡, 다양성은 연구자들의 본질적인 호기심을 자극해 왔다. 분류학을 통한 생물 종 다양성에 대한 탐구는 생물에 대한 가장 기본적인 이해를 돕기 위해 반드시 연구되어야 할 분야이다. 이러한 균류는 현대 사회에서 식용, 의약품, 대체에너지 등 매우 넓은 분야에 응용되고 있으며 가능성 있는 분야로 주목 받고 있다. 이를 위해 한반도의 다양한 환경에서 균류 체계적으로 자원을 발굴하고, 이들을 분류, 동정하여 관리함으로써 산업적 응용에 잠재력 있는 균주를 탐색하여 이용하는 것이 본 실험실의 연구 목표이다.
먼저 강력한 오염물질 분해능력과 환경적응력을 지닌 진균류의 탐색은 인위적으로 발생하는 난분해성 오염물질을 처리함에 있어 기존의 물리적, 화학적 공정을 대체하여 경제적, 환경적 부담을 낮출 수 있을 것으로 기대된다. 나아가 유류 오염 지역과 여타 해양 환경에서 분리한 세균으로부터 고효율의 생물계면활성제를 발굴, 생산하여 다환방향족탄화수소(PAHs)의 생물학적 분해에 적용하는 등 보다 효율적인 생물정화기법을 개발하고 있다. 또한 항산화제, 생물학적 방제제 등으로 개발될 수 있는 진균 유래 생리활성물질에 대한 연구, 그리고 차세대 염기서열 분석법(NGS)를 이용한 특이 환경(오염지역, 갯벌, 습지 등)에서의 미생물 군집 분석을 통해 환경 미생물 생태 연구를 진행하고 있다.
The complexity and diversity of fungi with great potentials has stimulated researchers' intrinsic curiosity. Exploration of biodiversity through taxonomy is a field that must be studied to help understand the most basic aspects of living things. These fungi are being applied to a wide range of fields such as food, medicine, and alternative energy in the modern society, and are attracting attention as potential fields. For this purpose, we are systematically searching for fungal strains in various environments on the Korean Peninsula, classifying, identifying, and managing them, so that we can search for potential strains in industrial applications.
First, the search for fungi with strong degradation ability and environmental adaptability is expected to lower the economic and environmental burden by replacing existing physical and chemical processes in the treatment of artificially generated degradable pollutants. In addition, more efficient biopurification techniques are being developed, such as the discovery and production of high-efficiency biosurfactants from bacterial isolates from oil-contaminated sites and other marine environments and applying them to biodegradation of polycyclic aromatic hydrocarbons (PAHs). In addition, research on fungal bioactive metabolites that can be developed to antioxidants and biological control agents, and microbial community analysis using Next Generation Sequencing (NGS) method in specific environments (polluted areas, tidal flats, wetlands, etc.) are under way.
연구주제
- Development of the biotechnological application using ligninolytic enzyme and their genetic engineering
- Application of bacterial biosurfactants to bioremediation of polycyclic aromatic hydrocarbons (PAHs)
- Screening of the bioactive metabolites from fungi associated with biological control agents and antioxidative drugs
- Evolution of higher fungi inferred from phylogenetic and morphological analysis
- Investigation of environmental microbial biodiversity and biodynamics using next generation sequencing (NGS)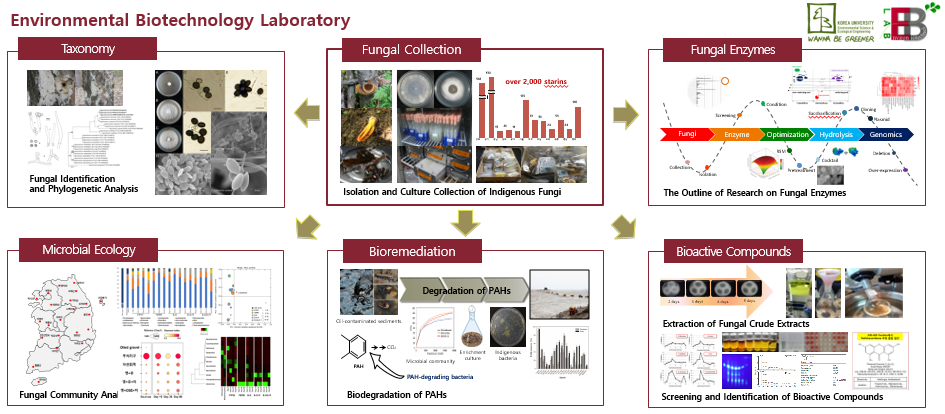 대표연구과제 소개
Recent Project or Representative Research Results
생물 자원에 대한 중요성이 날로 부각되는 가운데, 본 연구실에서는 한반도 미생물 다양성을 조사하고, 유용 균류를 발굴하는 사업을 진행하고 있다. 해양과 산림을 비롯한 한반도 각지에서 수집한 시료를 분석하여 미생물 다양성을 조사하고, 미생물을 수집 및 동정 하여 분자생물학적 기법을 통해 근연관계를 파악하고, 확보된 균주를 보관하고 있다. 확보된 균주를 이용하여, 유용 미생물에 대한 정보를 자체적으로 수집하고, 순차적으로 생물자원의 가치를 평가하기 위한 다양한 시도들이 진행중이다.  수집된 미생물 중 생물자원으로서 가치가 높은 균주를 선발하여 유용한 생물자원으로 활용하기 위한 실험을 진행하고 있다. 크게 미생물 유래 효소와 추출물을 유용성을 평가한다. 추출물의 항진균 능력, 항산화 능력 등을 평가하고, 효소들의 목질계 바이오매스 분해능력과 오염물질 분해 능력 등을 평가한다. 환경 미생물의 복잡·다양한 생태계를 알아보기 위하여 차세대 염기서열 분석 (Next Generation Sequencing, NGS) 방법을 통한 연구를 진행하고 있다. 다양한 환경에서 미생물 군집의 변이를 분석하고, 이를 종합하여 한반도 전체의 미생물 다양성을 알아보고자 한다.
Project List
해양수산부 : 유류 생물활성 성분의 독성확인 평가/유류오염 환경복원 기술 개발

한국연구재단 :해양 진균류 Arthrinium 속 유래 신규 기능성 물질 개발을 위한 Multi-OMICs 연구
(주)경농: 생물자원유래 천연물 라이브러리 제작과 농산업용 생리활성물질의 탐색
국립생물자원관 : 종다양성 분석을 통한 자생균류 발굴 및 특성분석
Selected Publication List
Hwanhwi Lee, Yeongseon Jang, Young Min Lee, Hanbyul Lee, Gyu-Hyeok Kim, Jae-Jin Kim  2015  Enhanced removal of PAHs by Peniophora incarnata and ascertainment of its novel ligninolytic enzyme genes  Journal of Environmental Management  164 10-18
Yeongseon Jang, Seokyoon Jang, Mihee Min, Joo-Hyun Hong, Hanbyul Lee, Hwanhwi Lee, Young Woon Lim, Jae-Jin Kim  2015  Comparison of the Diversity of Basidiomycetes from Dead Wood of the Manchurian fir (Abies holophylla) as Evaluated by Fruiting Body Collection, Mycelial Isolation, and 454 Sequencing.  Microbial Ecology  70(3) 634-645
Joo-Hyun Hong, Seokyoon Jang, Young Mok Heo, Mihee Min, Hwanhwi Lee, Young Min Lee, Hanbyul Lee, Jae-Jin Kim  2015  Investigation of Marine-Derived Fungal Diversity and Their Exploitable Biological Activities  Marine drugs  13(7) 4137-4155
Young Min Lee, Hanbyul Lee, Young Mok Heo, Hwanhwi Lee, Joo-Hyun Hong, Jae-Jin Kim  2017  Transcriptional analysis of genes encoding β-glucosidase of Schizophyllum commune KUC9397 under optimal conditions  Folia Microbiol  62 191-196