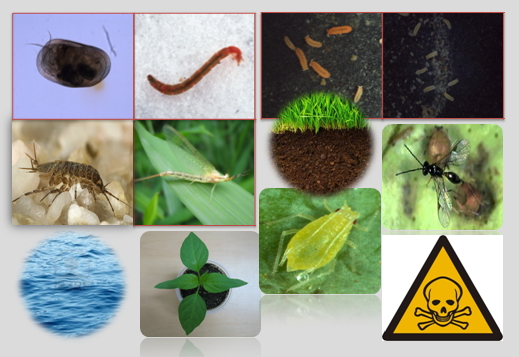 연구실 소개
생태독성학 연구실은 생태학과 독성학의 교집합 혹은 이 둘의 상호 인과 및 연관관계에 대한 연구를 중점적으로 고민하는 곳이다. 이를 위해 본 연구실에서는 무척추동물을 이용하여 토양과 수생태계의 건강성 평가와 더불어 경제적 피해수준 이하로 개체군의 생태적 관리를 위한 연구를 수행한다. 토양부분에서 최근 각광받고 있는 나노 물질의 생물체내의 거동 및 영향, 군집수준에서 지구 온난화가 생물과 독성에 미치는 영향, 먹이사슬을 통한 독성물질의 거동과 이에 수반하는 독성영향을 연구하고 있다. 수생태계부분에서는 국내종을 이용한 새로운 바이오마커 및 키트 개발, 군집 수준에서의 물질 및 독성을 예측하고 설명하기 위한 모델링에 대해 연구하고 있다.
Selected Pubilication List
Park, J.J., Cho, K. et al. 2011. Detecting and cleaning outliers for robust estimation of variogram models insect count data. Ecological Research DOI 10.1007/s11284-011-0853-y.
Son, J., Cho, K. et al. 2011. Biomarker discovery and proteomic evaluation of cadmium toxicity on a collembolan species, Paronychiurus kimi (Lee). Proteomics 11:2294-2307.
Son, J., Cho, K. et al. 2010. Soil compaction as a stressor, and its effect on cadmium toxicity to Paronychiurus kimi (Collmebola). Applied Soil Ecology 47:204-209.
대표연구과제 소개
Recent Project or Representative Research Results
생태건강성이란 생태계가 생태학적으로 온전하거나 교란되지 않은 정도를 의미하며, 화학적·물리적 및 생물학적 총체성을 모두 포함하는 생태학적 총체성으로 표현된다. 특히 생태계가 제공하는 서비스의 능력과 환경수용력(carrying capacity)에 대한 건전성을 의미한다. 생태건강성 평가의 중요성은 지속적으로 강조되고 증대되고 있으나 현재까지 확고하게 정착된 평가법은 존재하지 않는 상태이다. 여러 방법론적 단점들의 극복과 상호보완을 위해 절지동물을 지표시험종으로 이용한 생태건강성 평가가 대두되었다. 환경 내에 각종 교란에 대한 수용체로서, 이들 절지동물은 척추동물에 비해 환경 변화 및 여러 교란에 매우 민감하여 조기에 경보할 수 있다는 장점이 있다. 이러한 장점을 극대화하기 위해서는 생태계 내 존재하는 자연변이 기작 및 정도에 대한 이해가 충분해야 하며, 여러 가지 교란에 대한 반응을 정량화하는 기술의 개발이 필수적이다. 여러 국제기구 및 선진국 등 (OECD, US EPA, ISO 및 ASTM)에서 제시한 생태독성 프로토콜은 유럽과 북미지역의 수서 및 토양 생태 평가를 위해 해당 지역에 서식하는 생물을 이용하기 때문에 이를 우리나라 환경에 그대로 적용하기에는 한계가 있다. 따라서 우리나라의 생태독성 및 위해성 평가를 위해 국내 환경을 대변할 수 있는 자생 지표종을 이용한 생태독성 평가가 반드시 필요하다. 또한 기존의 개체수준 영향 평가법이 갖는 한계를 극복하기 위해 보다 빠르고, 정확하며, 재연성 높은 평가가 가능한 바이오마커의 개발과 이를 통한 스크리닝 기법의 개발에 대한 관심이 높아가고 있다. 특히 본 연구실에서는 실제로 생물에 직접적인 영향을 주는 것이 유전자가 아닌, 발현되어 생성 혹은 분비되는 생물대사산물이며, 아울러 생태독성 평가에 사용되는 지표종들의 염기서열 확립이 미진하다는 점에 착안하여 SELDI-TOF MS (Surface Enhanced Laser Desorption/Ionization-Time of Flight Mass Spectrometry), 2DE PAGE (Two Dimentional Polyacrylamide Gel Electrophoresis) 등의 기법을 활용, 단백질을 이용한 생태독성평가법 연구를 집중적으로 수행한다. 이상의 기반 연구 및 실용화 사업을 통해 우리나라 생태계 건강성의 회복과 나아가 국민건강 증진에 기여하고자 한다.
급격한 지구온난화가 진행됨에 따라 온도의존적 생장 및 발육특성을 가진 해충개체군의 돌발적 대발생이 증가하고 있는 추세이다. 소비자에게 안전한 농산물을 안정적으로 공급하기 위하여 해충 개체군의 적절한 관리가 그 어느 때보다고 필요한 시점이다. 따라서 해충 개체군의 동태를 정확하고 정밀하게 진단하고 이를 기반으로 방제체계를 수행할 수 있는 수리적 모델의 개발이 필수적이다. 특히 시설 내에서 발생하는 해충을 관리하기 위하여 시설재배지를 하나의 생태적 시스템으로 인지하고 물리적 요인과 생물적 요인들의 해충에 대한 영향을 평가하고 이들을 IPM (Integrated Pest Management)요소로서 결합할 수 있는 기술 개발이 요구된다. 이러한 기술이 개발되면 해충 밀도변동 예측, 방제의 효율 및 방제방법간의 상호작용을 추정할 수 있어 시설 내에서 가장 적절한 방제 시기 및 방제법 선정이 가능해지며, 이를 통해 농업산업의 안정성 확보와 국민들에게 안전한 먹거리 공급에 기여하고자 한다.