목재미생물 및 목재보존연구실에서는 목재보존(wood protection) 분야와 임산환경공학(environmental engineering in forest products)에 관한 연구를 수행하고 있다. 목재는 친환경적인 생물 재료로써 그 수요가 지속적으로 증가함에 따라 목재 및 목제품의 고내구화 기술 개발이나 목재 보존 분야의 필요성이 증대되고 있다. 따라서 적절한 보존 처리를 통해 내구성을 향상시켜 급증하는 수요 문제를 해결함은 물론 산림을 보전하고 더 나아가 지구환경보전에 일익을 담당하고자 한다. 한편 목재의 주요 구성성분인 cellulose, hemicelluloses, lignin을 분해하며 생장하는 목재미생물은 대사과정 중 다양한 유기산이나 효소를 분비하여 목재를 분해하는데, 이와 같은 특징 때문에 최근에는 목재의 구성성분과 비슷한 유도체들을 분해하는 데 있어 잠재성을 지닌 생물재료로 주목 받고 있다. 이는 목재산업에서 산업활동을 통해 발생할 수 있는 다양한 환경문제 예방 및 최소화, 목질계 폐자원의 고부가적 재활용과 같은 자원절약과 환경보전 측면에서 중요하게 다뤄지는 문제에 대해 응용될 수 있다. 이에 본 실험실에서는 유용한 목재미생물 자원을 지속적으로 수집 및 보존하고 있으며, 다양한 분야에 연구 재료로 활용하고 있다.
2. 목재 가해 충류
목재에 상당한 피해를 주는 목재 가해 충류 중에서 국내에 서식하고 있는 termite의 분자생물학적 특성을 연구하고, 이들의 습식이나 생태에 대해 이해하고자 한다.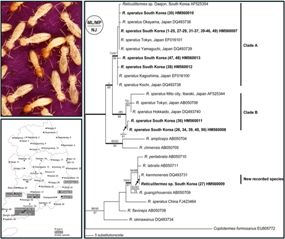 4. 목재미생물을 이용한 다양한 환경정화
유용 생물 자원으로써 각광받고 있는 목재미생물을 이용하여 각각의 특성이나 종(species)에 따라 다양한 오염 물질에 적용하여 환경정화 기술을 연구하고 실제 환경정화에 적용할 수 있도록 하고자 한다.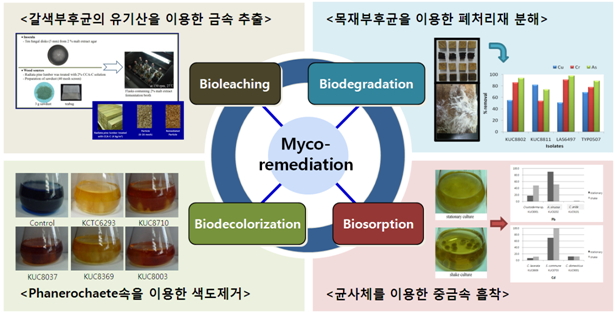 Project list
농촌진흥청: 농업유전자원 관리기관, 특수연구소재 균류수집보존센터 2007. 05. 03 ~ 2011. 12. 31
산림청: 국내 자생 목재미생물의 mycoremediation 특성규명 및 환경생물자원 종합정보시스템 구축 2010. 04. 01 ~ 2013. 03. 31
국립문화재연구소: 목조문화재의 개방과 관람객 출입에 따른 보존영향 평가 – 개방환경에 따른 목조건축물의 보존영향 예측연구 2012. 04. 01 ~ 2012. 11. 30
Selected Publication list
Choi, Y.-S., Y. Long, M.-J. Kim, J.-J. Kim, and G.-H. Kim. 2012. Decolorization and degradation of synthetic dyes by Irpex lacteus KUC8958. Journal of Environmental Science and Health, Part A Toxic/Hazardous Substance & Environmental Engineering (accepted)
Choi, Y.-S., B. J. Ahn, and G.-H. Kim. 2012. Extraction of chromium, copper, and arsenic from CCA-treated wood by using wood vinegar. Bioresource Technology 120: 328-331
Choi, Y.-S., J.-J. Kim, M.-J. Kim, Y. Imamura, T. Yoshimura, and G.-H. Kim. 2012 Fungal biodegradation of CCA-treated wood and removal of its metal components. Chemosphere 88(6): 725-729.
Kim, M.-J., Y.-S. Choi, J. Lee, J.-J. Kim, and G.-H. Kim. 2012. Molecular characteristics of subterranean termites of the genus Reticulitermes (Isoptera: Rhinotermitidae) from Korea. Annals of the Entomological Society of America 105(1): 97-102.
Zaidon, A., G.-H. Kim, M.T. Paridah, E.S. Bakar, and I. Rushdan. 2012. Optimisation of the processing variables for high polymer loading in compressed wood using response surface methodology. Journal of Tropical Forest Science 24(2): 241-248.
Lee, H., Y. Jang, J.-M. Kim, G.-H. Kim, and J.-J. Kim. 2012. White rot fungus Merulius tremellosus KUC9161 identified as an effective degrader of polycyclic aromatic hydrocarbons. Journal of Basic Microbiology 52: 1-5.